The New Yorker staff writer Jonah Lehrer resigned in July, after eventually being forced to admit that a number of the quotes he'd attributed to Bob Dylan in his best selling book Imagine: How Creativity Works had been made up by him.
You can read about it here in The Washington Post, or you can get the full account of precisely how he was unmasked by the man responsible, Michael C. Moynihan, in his fascinating piece in The Tablet, here.
Inevitably, some people have suggested that this could be as damaging for The New Yorker as Jayson Blair was for The New York Times after similar behavior there.
But Lehrer's "lies" were in his best selling book, not the magazine. And if anything, what both cases point to is how increasingly difficult it is to get away with that kind of dishonesty in this day and age. Especially when you write for a publication like The New Yorker, which is so justly famed for the quality of its writing and the meticulous care with which each and every piece is put together.
I've been subscribing for about ten years now, and I waft about the place in a permanent state of wonder at the quality of each and every issue.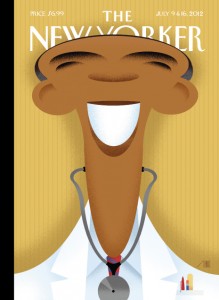 The July 9th and 16th edition for instance contained the following (there are 47 issues every year so some of the holiday issues cover two weeks, instead of the usual one):
There was a fascinating if inevitably depressing overview by Dexter Filkins of where Afghanistan is after ten years of US occupation, and what's likely to happen there after they leave in 2014.
At over 10,000 words long, there are few if any other publications in the world prepared to provide their writers with that kind of window, and to give them the funds needed to conduct the sort of research a piece like that demands.
Then there was a piece by Michael Specter on Oxitec and the genetically modified mosquitos that they've released into certain carefully controlled environments in the Caribbean and, now, in Brazil. These have been genetically designed to self-destruct.
What will the unforeseen consequences be of releasing creatures created by man in the laboratory into the environment? On the other hand, very unusually, mosquitos appear to exist for the sole purpose of reproducing.
They don't seem to be part of anything else's diet, and the only creature they seem to rely on is us. And they're responsible for half the deaths in the history of humanity. So surely the possibility of eliminating them is something to be welcomed?
Nathan Heller had a piece on the uber-hip TED talks and their messianic advocates.
And there were wonderfully illuminating and quietly moving extracts from the diary kept by the American writer Mavis Gallant as she struggled to balance being a woman, a writer, and an American trying to eek out a living in the detritus that was left of Europe in the aftermath of the II World War.
Then there are their stable of critics. Anthony Lane on cinema, Alex Ross on classical music, Judith Thurman on fashion and Peter Schjeldahl on art, to name but four of their unflappable titans. Plus the financial page, their Shouts and Murmurs (Joel Stein was particularly funny in this issue), their cartoons and of course their fiction.
It's a slow week when I manage to finish reading an entire issue in any given week, and the short story that they publish is usually, alas, an inevitable casualty. But I make an exception for William Trevor, Junot Diaz (who had a piece in the following issue), Alice Munroe, Colm Tóibín and any of the older pieces by Updike or Nabokov that they occasionally publish.
It is by a country mile the best written, most meticulously researched and impeccably curated publication in the world. And at a little over $100 a year for a subscription, it'll cost you barely two Euro a week. If you've any curiosity at all, about anything under the sun, you should treat yourself now.
And so what if you don't manage to finish reading it (or even opening it) every week. Your read and unread copies will be greedily welcomed by friends and family alike.
Sign up for a subscription right or below, and I shall keep you posted every week with All the Very Best and Worst in Film, Television and Music!