5.  Sat 22nd, 7pm BBC4. Lawrence Olivier directs and stars in The Prince and The Showgirl, together, somewhat incongruously with Marilyn Monroe. Frightfully silly, but both are endlessly watchable.
And it's followed at 9pm, still on BBC4, by Screen Goddesses:Arena, which is and remains the best arts strand anywhere on television.
4.  St. Stephen's Day, 2:40 BBC2. Vincente Minnelli directs Gene Kelly and the archetypal gamine Leslie Carron in Gershwin's 1951 musical An American In Paris. This terpsichorean and Technicolor MGM classic is probably one of the very few films screened this Christmas that many people won't already have seen.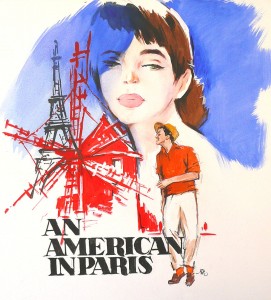 3.  Christmas Eve, 11:55pm BBC4; and Thursday Dec 27th,11:10pm RTE2. Arena: Amy Winehouse – The Day She Came To Dingle. This quietly moving and thoughtfully put together programme shows the singer in disarmingly relaxed form as she chats accessibly before taking to the stage for RTE's Other Voices in 2006.
2.  St. Stephen's Day, 7pm BBC4. The Two-Thousand Year old Computer. For those of you who haven't already seen it, here's a chance to savour once more this quietly told and endlessly fascinating story, which I reviewed more fully here. It's absolutely riveting and is not to be missed.
1.  Sunday 23rd, 11:25pm BBC1. The Graham Norton Show. Our own Graham Norton, from Bandon where, we were always told, even the pigs are Protestant, has become the brightest star on British television. Ironically, he's done it by adopting the quintessentially British cloak of irony-clad self-deprecation. By presenting himself as a bit of a fool, he effortlessly produces a brilliantly intelligent and consistently riveting talk show.
Tonight's guests are Dustin Hoffman and Jennifer Saunders, and are joined by Billy Connolly. Surely even he'll seem funny in this company?
And Graham's back again on New Year's Eve on BBC1 at 10:35pm. His guests tonight include Tom Cruise and Billy Crystal.
Sign up for a subscription right or below, and I shall keep you posted every week on All the Very Best and Worst in Film, Television and Music.