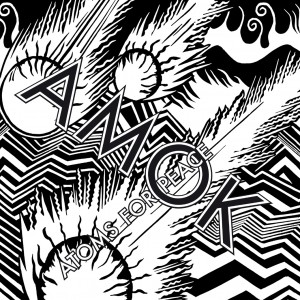 Atoms For Peace is the group that Radiohead's Thom Yorke put together in 2009 so that he could tour his recently released solo album Erasure. And their debut album, AMOK, is basically a follow-up to that.
Atoms For Peace are made up of long time Radiohead producer and multi-instrumentalist Nigel Godrich, Flea, the bassist from the Red Hot Chili Peppers and drummers Joey Waronker and Mauro Refosco.
The latter is a Brazilian musician who has toured for years with David Byrne, and he became one of the pioneers of what came to be known as World Music when he set up his record label Luaka Bop in 1990.
The subsequent arrival into our living rooms of the sounds of Latin America, Africa and Asia was one of the happier offshoots of globalization. And it's that sound and his presence that reverberate, happily, throughout this album.
AMOK is basically the slightly more melodic sounding album that we expected to get with Erasure but didn't. Most of the more recent Radiohead albums have been driven by the conflict between confrontational, twitchy digital beats and the seductive delivery of Yorke's melodies. But all of that takes on a completely different feel here as each of the tracks are governed by a commanding afrobeat.
Indeed, from the moment that the first track kicks in, it's impossible not to hear in the twang of the lead guitar the sounds of west Africa, and specifically those of Fela Kuti. And the album that follows is a wonderful mixture of nerdy indie introspection filtered through infectious and uninhibited global rhythms.
Yorke has said that it was the impressionistic song writing of Byrne that inspired (and slightly intimidated) him on this album. But what you hear here more than anything else is echoes of the collaboration that Byrne and Eno produced in the 1980s with My Life In the Bush Of Ghosts. And AMOK is a gentle companion piece to that, without in any way being overtly deferential.
It gets a slightly grudging 6.9 from the boys from Pitchfork here. Which isn't bad. But doesn't really do justice to quite how enjoyable the album is. Understated, yes. But memorably so.
Sign up for a subscription right or below and I shall keep you posted on All the Very Best and Worst in Film, Television and Music!