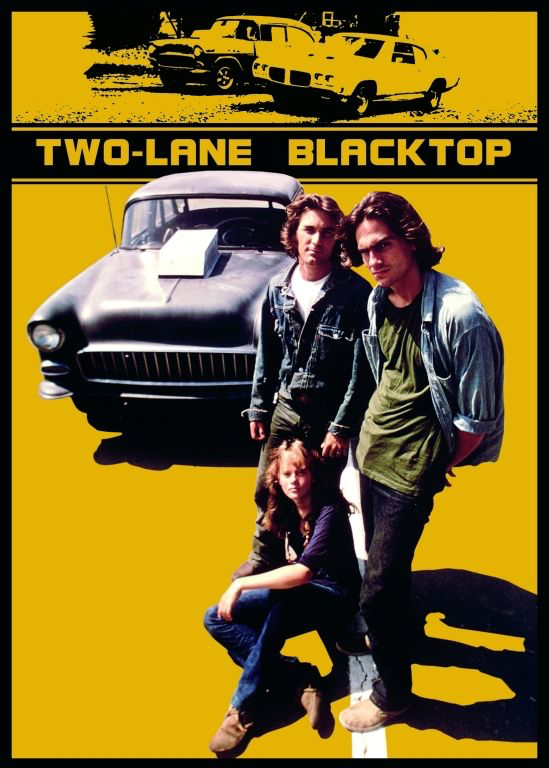 Two-Lane Blacktop is exactly the sort of film everyone expected there to be hundreds of after the global success that Easy Rider enjoyed in 1969.
Easy Rider starred and was written by Dennis Hopper and Peter Fonda, together with Terry Southern, who'd previously worked on the script for Dr. Strangelove and was credited by Tom Wolfe as having pioneered New Journalism. It cost just $400,000, but went on to gross over 60 million dollars. 
Both a commercial and a critical sensation, it ushered in the New Hollywood era that blossomed throughout the 70s with the likes of Robert Altman, Hal Ashby, Martin Scorsese, Francis (ex of Ford) Coppola and Paul Schrader.
Surprisingly, Easy Rider has aged remarkably well and is definitely worth a look if you haven't already seen it. As is this, its spiritual sequel.
Two-Lane Blacktop, the blacktop being the open road on which our latter day cowboys face up to one another on, came out in 1971 and was directed by Monte Hellman.
A driver and a mechanic prowl the open road looking for likeminded loaners to race, living off of the proceeds. Inevitably, they pick up a girl looking for a, ahem, ride, and what plot there is revolves around their pursuit of her, and their confrontation with the older outrider they square off against on their respective steel steeds.
But neither the film nor its principle characters seem terribly interested in pursuing their objects of desire. Instead, it's the spirit of Antonioni that reigns supreme. His regal Zabriskie Pointe (reviewed by me earlier here) had come out the previous year, and, as there, the predominant mood is one of existential ennui.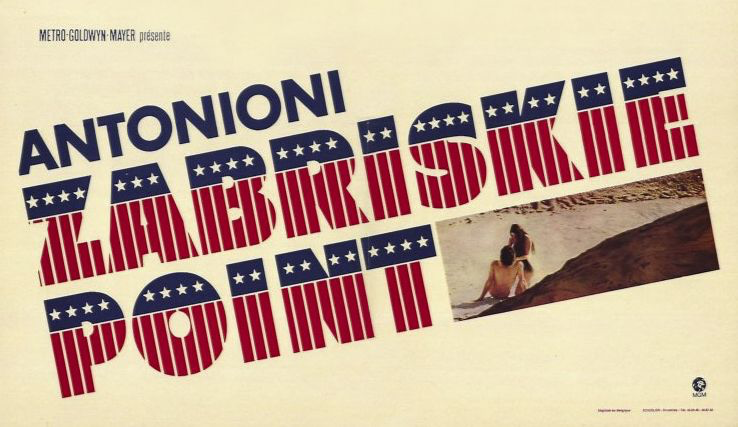 This is further accentuated by the casting. The two male leads are played by James Taylor and Dennis Wilson. The former went on to establish himself as the archetypal 70s singer songwriter, while Wilson was the least naturally gifted of the three Beach Boy brothers, musically speaking. And was so insanely young when the whole Beach Boys thing happened – he was 23 when Pet Sounds came out at the endof their heyday – that inevitably, he spent most of his thirties in a drug-addled haze, before drowning tragically at just 39.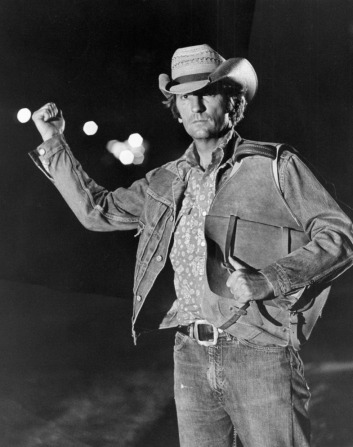 So instead of the sort of performances with a capital P that you would have expected from a Dennis Hopper or a Jack Nicholson, they amble they way through the film in exactly the right state of disinterest, not so much by design as by default. Pleasingly, you suspect that their casting was similarly happenstance. They just happened to be there when that particular joint got passed around.
It doesn't quite give the heady hit that Easy Rider produces. But it is a curio well worth investigating and is a pleasing antidote to all that green screen nonsense.
Sign up for a subscription right or below, and I shall keep you posted every month on All the very Best and Worst in film, television and music!