The Avalanches released their debut album Since I Left You in 2000, and its kaleidoscopic mix of sunny samples moulded to infectious groves saw it rightly heralded as one of the albums of the decade. Wildflower is their belated sequel. So why has it taken 16 years to arrive?
Well for one thing, the even larger number of samples they needed for their second record took over 5 years for clearance. Then the five Australian DJs became two, and are now two plus one. Then their record label went belly up, and one of them developed a life threatening, debilitating illness.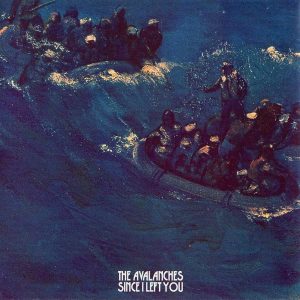 The good news is, and not withstanding the wait, Wildflower feels like the completely natural next step after Since I Left You. As you'd expect, a slew of guest vocalists have joined the party now, with Jonathan Donahue of Mercury Rev, David Berman of Silver Jews, Warren Ellis and Father John Misty bobbing up and down in the sea of meticulously layered sounds.
A few people have grumbled that it's too recognizably a new Avalanches album, and that they haven't evolved enough. But that's always the fate of the avant garde. What begins as weird and aggressively off-putting quickly becomes acceptable and then the norm. This is even more obviously the case with DJ Shadow.
The new album, his fifth, is called The Mountain Will Fall, and like the previous couple it's gone largely un-noticed. That's because the hype that his debut album Endtroducing generated in 1996 was bound to be followed by something of an inevitable backlash. And once again, as I wrote earlier on his previous albums here, this is most unfair.
Unsurprisingly, this is a much darker and more brooding affair than the Avalanches' album, but it suffers from the same, unjust criticism. How can this sound so recognizably like a n other DJ Shadow album? Shouldn't he have moved on?
The point is, what he and then the Avalanches were doing was not some sort of passing fad. Effectively, they'd mined a new art form.
The instrumental hiphop that he pioneered was manufactured by piecing together samples from other records and from all sorts of disparate eras and genres, and piecing them together to form a gloriously coherent and formidable soundscape.
The trouble is, nowadays that's how all albums are put together, from the obscure fringes to the mainstream centre. By mining as many diverse sources as possible, in every area of an albums creation. There are over 72 writers on Beyoncé's new album, the excellent Lemonade, and over 2,000 individuals are credited with having contributed to it.
A perfect example of which is Freetown Sound, the new album from Blood Orange. In many ways, it's a relatively conventional album on the funkier, RnB side of soul, from a British artist who's taken four or five albums to finally find his voice, which he has done here in spades.
But each of the tracks are bookended by samples and film clips that give the album and each of the tracks a decidedly political edge. So that on the one hand, it has a much more contemporary feel to it than either of the above, but on the other, it never could have been made the way that it was, or have ended up sounding the way that it does, without the pioneering work done by the likes of Shadow in days of yore.
Though not quite as good as some critics would have you believe, Freetown Sound is nonetheless a serious album, and gets an 8.8 from Pitchfork here, while The Mountain Will Fall gets an unjustly skimpy 6.6 here, which isn't really fair on either count. They more properly merit about 8.0 each – Wildflower gets an 8.5 here.
What all three albums represent is the fruits of a lifetime of hard work from serious musicians for whom music is not so much a choice as it is a compulsion. And for whom, and thanks to whom, making an album the old way simply isn't an option any more.
You can see the video for DJ Shadow's The Mountain Will Fall here, the lead single Augustine from Blood Orange here, and you can hear The Avalanches' Colours here– the video for the single Frankie Sinatra is pants, which is a shame, as the song itself is impossibly catchy.
Sign up for a subscription right or below, and I shall keep you posted every month on All the Very Best and Worst in Film, Television and Music.