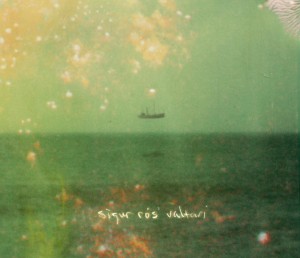 Valtari, the new album from Sigur Rós is something of a back to basics affair. Their last two, Takk in 2005 and With A Buzz in Our Ears We Play Endlessly in 2008 were clearly an attempt by them to move in a slightly more conventional direction by producing collections of what were more recognizably songs.
Valtari, their sixth in the studio, sees them return to the territory mapped out by 2002's '( )' and the work they'd been producing beforehand.
For some, this has proved to be something of an ever so gentle let down. The boys from Pravda at Pitchfork gave it a sulky 6.1 here, bemoaning what some see as a regression.
But Sigur Rós were never about songs. Like Brian and Roger Eno or The Penguin Café Orchestra before them, their focus has always been on conjuring up atmospheres and evoking landscapes through the tactile texturing of sounds.
Hence Jonsi's use of Hopelandic, the hotchpotch of vowels he uses to lace so many of their "songs" with. The meaning isn't to be found in any combination of words or thoughts, but in the feelings aroused as the sounds of the "words" combine with the layers laid down in the music.
And neither is it really fair to accuse them of failing to evolve. Yes a lot of the ambient sounds produced here are reminiscent of those earlier albums. But there's much more of a post-punk feel to a lot of what's gong on in the background now.
The melodies, though as ethereal as ever when they do rise, are more likely now to be offset by waves of dissonance, albethey of the gentle variety.
They've made a number of videos to accompany the album. This one, for track 3 "Varuo" here is a little bit underwhelming video wise. But curiously it somehow grows on you. And it's the nearest thing on the album to the sort of conventional song from their more recent period.
The other for Fjogur Piano here, the 8th and final track is much more representative of the album musically speaking, even if video wise, it's just a little bit busy. There's so much going on, that nothing much happens. But you do get to see Shia Lebeouf's impressive torso.
Though not personally responsible, he was part of the gang indicted for so brutally raping poor old Indie in the lamentable fourth outing of Indiana Jones. You can catch a glimpse of the culprits caught here on camera by the good people from South Park. And if you haven't seen the full episode 8 from series 12, do so now. It'll bring tears to your eyes.
Sign up for a subscription right or below and I shall keep you posted every week with All the Very Best and Worst in Film, Television and Music!