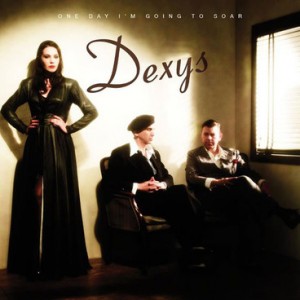 When news surfaced of the return of Kevin Rowland and Dexys, they of the Midnight Runners, there was an understandable air of scepticism. Not another middle-aged has-been trying to relive past glories and cash in on a dusty back catalogue. But very quickly, word got out that this was the real deal. An actual return to form.
One Day I'm Going To Soar is the fourth album from Dexys and their first since Don't Stand Me Down in 1985, the inevitably doomed follow-up to the all-conquering Too-Rye-Ay 27 years ago.
The latter had produced the world-wide sensation "Come On Eileen", the best selling single of 1982. Not to mention of course the Van Morrison cover "Jackie Wilson Said", another hit single which they performed so memorably on TOTP while holding a portrait of the Scottish darts heart-throb Jocky Wilson.
Incredibly, to the complete shock of everyone working in the music industry, as soon as they had achieved their overnight success Dexys promptly imploded.
In fairness, of all the people suddenly thrust into the limelight, Rowland was probably the least well equipped to cope with its glare. And after the traditional sacking of band mates, falling out with record labels and descent into drug addiction, he eventually produced the questionably honest solo album My Beauty for Creation Records (immediately before they imploded) in 1999. That's him on its cover sporting a fetching dress.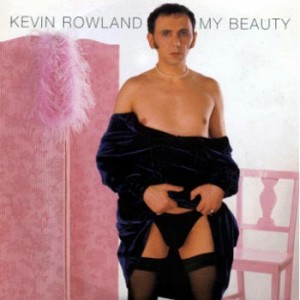 So it was to everyone's amazement and, frankly relief that the British music press began to report in May that the new Dexys tour was something of a sensation. The shy but ever reliable Simon Price summed up their reaction in his Independent On Sunday piece here.
And what all the fuss was about became blindingly obvious when they appeared on Later with Jools Holland where they began, ballsily, with a performance of "Come On Eileen" which you can see here. That's how you take the dry air of a television studio and set the building on fire.
Essentially a concept album, One Day I'm Going To Soar centres around the five tracks that chart Rowland as he falls hopelessly in, and then just as unexpectedly and as inexplicably out of love with the object of his desire.
Lyrically, it's reminiscent of Dylan in the early 70s. But when the latter sang love is all there is, it makes the world go 'round, it was easy to miss quite how profound a realization this was, despite coming from one of the most sophisticated lyricists of the 20th century as it was delivered in such an off-hand manner.
There's no mistaking the pain and heartache that have led Rowland to exactly the same conclusion. You can hear it in that still remarkable voice, and it's made all the more palpable by his apparent inability to hold and hang on to love.
Brutally honest, but gloriously expansive musically speaking, there are any number of echoes of the early and mid 70s throughout, from the Stylistics and Sylvester to Sly and The Family Stone. But the principle constellation is still Van Morrison. And it's one that Rowland and Dexys are comfortably capable of living with. A triumphant return and a stellar album.
Sign up for a subscription right or below, and I shall keep you posted every week with All the Very Best and Worst in Film, Television and Music!